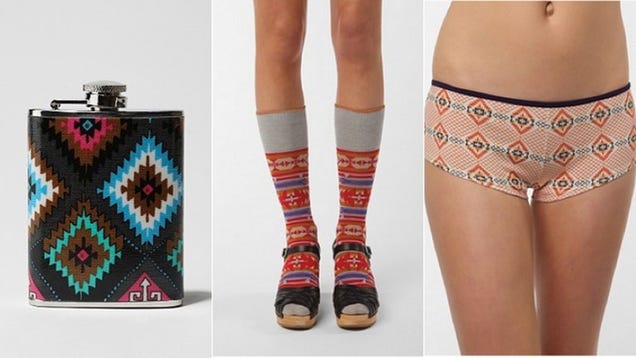 In addressing the issue of cultural appropriation/misappropriation, Nicole Rowlands shares her thoughts triggered by a recent Fordham Law School's Fashion Institute panel.
the event advertisement asked the following: "When it comes to culture, the world's closets are filled with borrowed and reimagined finery – but when does inspiration shade into cultural appropriation? And at what point should counsel comment?"
Although it seems like designers and artists mean no harm when they are inspired by or take motifs, elements and even actual cultural/historical artifacts from indigenous people, they are harming them to an extent.
Take for example, the as-yet unresolved case of Urban Outfitters and the Navajo panties and Navajo liquor flask:
In 2011, Sasha Houston Brown, a Native American woman from Minneapolis published a harshpublic letter to the CEO of Urban Outfitters, expressing anguish over Urban Outfitters' "mass marketed collection of distasteful and racially demeaning apparel and décor." Ms. Brown felt that the company was legitimizing racism under the guise of cultural "appreciation."
There is nothing honorable in selling items like the Navajo Print Fabric Wrapped Flask and Navajo Hipster Panty, said Ms. Brown. "Navajo" isn't an aesthetic movement like punk rock or gothic revival – it is a legal entity, a tribe of people, and an actual nation.
Shortly after the hype surrounding Ms. Brown's letter, the Attorney General of the Navajo Nation wrote to Urban Outfitters asking the corporation to cease and desist using the Navajo trademarks to sell clothing and accessories.
When Urban Outfitters refused to take down its Navajo-inspired products, the Navajo Nation sued alleging trademark violations, unfair competition, and violations of the Federal Indian Arts and Crafts Act (which prohibits falsely claiming, or even implying, that a product is Native American-made when it is not).
The Navajo Nation claimed the "Navajo panty" and a "Navajo liquor flask" were "derogatory and scandalous," And that the product line was a profound cultural offense, especially considering the sale and consumption of alcohol is banned on the reservation. Urban Outfitters responded that, in fact, there was no likelihood of consumer confusion between an authorized Navajo clothing item and the panty or liquor flask and further, that the contested product wasn't a "handicraft" thus, prohibiting the items under the Federal Indian Arts and Crafts Act.
And when it comes to indigenous people and US Copyright law, who are the authors?
Indigenous cultures' art has no one author to claim "authorship." Additionally, the contemporary works are usually based on designs created centuries ago and U.S. law limit the terms of authorship protected by copyright (usually life of author plus 70 years).
Even how can "fair use" be harmful to indigenous people's interests? A case between two photographers is illustrative:
In 2009, one professional photographer, Patrick Cariou, sued another photographer, Richard Prince, for copyright infringement when he became aware that Mr. Prince had used approximately 35 of Mr. Cariou's photographs in his art series "Canal Zone." Mr. Prince took the photographs from Mr. Cariou's publication, "Yes, Rasta," a series of landscapes and portraits of Rastafarians in Jamaica, for publication in a book, but transformed them by enlarging, cropping, tinting, painting over, and collaging the photos with those of other artists.
...The federal district court granted Mr. Cariou's motion for summary judgment and found that Mr. Prince had acted in bad faith by failing to seek a license from the photographer. This took the licensing element of copyright protection a step further than ever before and put an affirmative duty on the defendant to seek a license first, or else risk being found to have acted in bad faith by a court. But on appeal, the Second Circuit reversed the district court's decision and emphasized the broadness of the fair use doctrine. Mr. Prince appropriated, but he altered the photographs enough so that they became his original work.
The district court ruling in Cariou would have moved the law closer to compulsory licensing and would have potentially made a great impact in the protection of indigenous communities and their works. However, there was no such luck for indigenous communities.
I am unsure as to why the Second Circuit reversed the lower court's decision (the link to that decision is a dead link, so I couldn't read it) but one big strike against
Mr. Prince is the highly commercial nature of his work which undercuts his fair use defense. In any event, the question remains, how should we strike the balance between protecting the work of indigenous communities and protecting the work of artists? And how will this be resolved in the future, via policy or court decisions?